Welcome to Megas Seirios Publications
Dear readers
We welcome you to the website of Megas Seirios Publications. Navigate through our electronic shop for our books on practical philosophy and literature. Or visit our pages for more information on our cultural events, workshops and general news. To help you with the book of your choice we suggest you read the extracts which accompany every book.
You can also sign up for our newsletter for regular updates on new publications and news.
If you need help or have a question please contact us using the link above.
With every book comes a wealth of knowledge!
Our Latest News
Presentation of the literary work of Mr. Thanassis Frontistis (30-03-2019)
With words, images, thoughts and emotions as strong as the wind that was blowing the night of Saturday 30th March, our event for the presentation of the exceptional litterateur Mr. Thanassis Frontistis' work unfolded. And the synthesis of all this whirlwind of ideas and concepts came into being and took form and became poetic word and redeeming breath...
"Poetry is an embrace expressed with words" – The presentation of our books at an event by the literary magazine "KELAINO" (03-03-2019)
With spring at our doorstep and Athens the World Book Capital for 2018-2019, the magazine "KELAINO", known for its long-standing cultural contribution, organized on the first Sunday morning of March an excellent book presentation of the works: "I Will be Here"...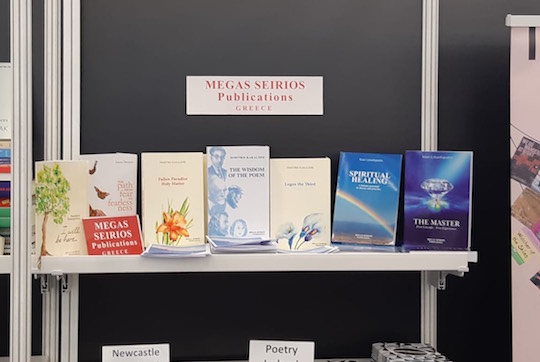 Our publications at the London Book Fair (12-14/03/19)
Our Publishing House participated with our English titles in the largest book fair, the London Book Fair, from 12/3/19 to 14/3/19. Our books were available to the participants of the fair at the Poetry Collective stall...
Our new poetry collection, "For the flowers to sing", by Vassiliki Ergazaki (Greek)
We have just received and are sharing with you our new book, the third poetry collection by Vassiliki Ergazaki, a poetess, mathematician and a member of our Literary Workshop, titled "For the Flowers to Sing". In this book, the melodies and aromas of her new poems emerge to awaken the soul so that it can express itself self-luminous and complete....
"A short promenade in the great secret garden of the Master" D. I. Karamvalis
The exceptional poet and literary critic Mr. D. Karamvalis honored us by addressing a greeting at our event about the poetic work Logos the Third on 01/12/2018. We would like to extend our heartfelt gratitude to Mr. Karamvalis for his deep and profound approach and his speech is cited below unchanged...
We offer...