"The Kakalidis Method for Literature Analysis: A Synthesis Approach" published in ATINER's Conference Paper Series
"The Kakalidis Method for Literature Analysis", created by the founder of Omilos Eksipiretiton, philosopher and poet, Dimitris Kakalidis, was presented for the first time at the 7th International Literature Conference, organized by the international academic association "Athens Institute for Research and Education" (ATINER), on 9-12 June 2014.
The paper titled "The Kakalidis Method for Literature Analysis: A Synthesis Approach", was presented by Dr Fevronia Christodoulidi, member of Omilos, Professor at the University of East London and Mrs Paraskevi Kostopetrou, Head of Megas Seirios Publications.
The "Kakalidis method" was warmly received, in both its content and methodology, by the participants – academics and university professors from all over the world. Various professors also expressed their great interest for this pioneering, as they said, way of analysis and expressed their wish to be able to teach it to their students. Furthermore, as we highlighted during the conference, the 'Kakalidis Method' is an approach to analysis that can be applied in various fields, such as poetry, literature, every form of art and one's life perspective as a whole.
The paper is published in "ATINER's Conference Paper Series LIT2014-0987″ and you can read it here.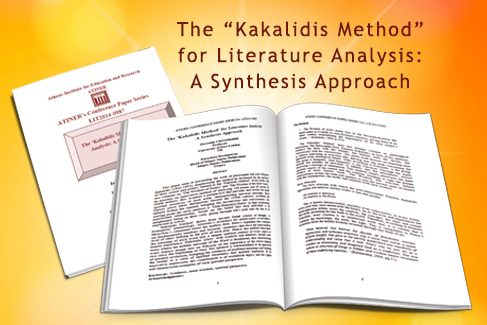 "…The Wisdom of every poem lays in the de-symbolisation the mind makes as it builds its own fictional construct, giving form to its inner content, externalising the importance of its own nature's events…"
(Kakalidis, D. 1994, The Wisdom of the Poem, Megas Seirios, Athens)
Read more:
Our abstract on the "Kakalidis method" published in the Literature abstract book of the 7th International Conference on Literature by Atiner

 
We offer...