International seminar of Omilos titled: "Spiritual Healing: The art of spiritual living"
"I feel like I am in Plato's Academy". Those were the words of E.A., a student of Politial Science and Philosophy from London about the seminar held by Omilos Eksipiretiton at Korfos, Korinthia on 5-8 July 2012.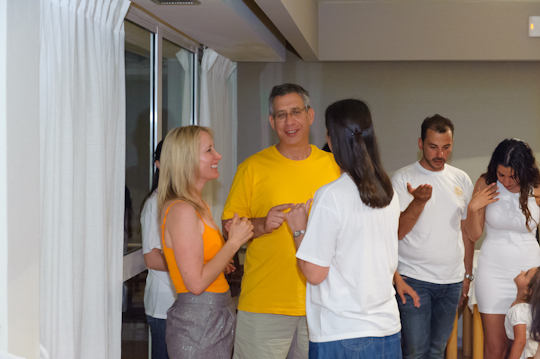 Poets, teachers, mental health scientists and students from Greece, England, Austria, Turkey and Ghana as well as friends of Omilos and Megas Seirios Publications from Athens and other regions of Greece participated in this year's summer seminar.
The various activities that took place during the seminar included - amongst others - presentations and discussions on the philosophy of Omilos, interpretation of art works to reveal their hidden wisdom, presentations of Heraclitus' philosophical thought, relaxations and many interactive groups (chorodrmena, dromena etc.). All these activities gave the participants the opportunity to know the teaching of Omilos and experience spirituality in their everyday life.
The poem "A river of stars" by Hlias Simopoulos was analysed according to the analysis of Dimitris Kakalidis in his book "The Wisdom of the Poem". The well known poet and painter Ms Leta Koutsohera honoured us by reciting some of her poems, while poet Michael Kwaku Kesse Somuah from Ghana inspired by the warm atmosphere, wrote and dedicated to Omilos his poem "When the Sun Rise".
Mrs Leta Koutsohera and Mr Michael Kwaku kesse Somuah recite their poems
We would like to thank all for their participation.
We offer...